Kanji Master Drill
Free online study program for learning how to read, write and properly use the Japanese Kanji symbols.
Introduction
Three Types of Flash Card Programs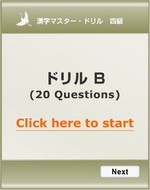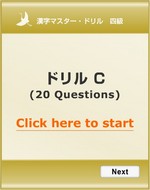 Random order drill program for effortless, quick memorization.
Each drill trains specific abilities - reading, character recognition and proper use of Kanji.
Question style is similar to real JLPT tests.
Comprehensive Instructions
The content is carefully organized for step-by-step effective learning. 10 Kanji symbols with similar meaning or usage are grouped.
In addition to reading and meaning, origin and structure of each character are introduced.
Stroke order animation displays how the character is drawn.
Click button to see the sample animation.

To view the content, you need Adobe Flash Player, a free application distributed by Adobe Systems.
All of JLPT level 4 words containing the 120 Kanji are listed. You can learn how Kanji is used in a sentence.
Handwriting Practice

Printable writing practice sheet with grid lines (PDF file) is available.
Tips for correct, beautiful handwriting are explained in detail.

Contents
These 120 Kanji are commonly learned at the first half of elementary level.
Suitable for the JLPT Level 4 study.
Each part takes 1-2 hours.
Hiragana and Katakana should be learned before.

How to Study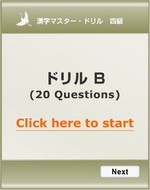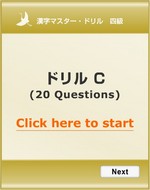 3 types of random-order drill programs for effortless, quick memorization.
Each drill trains specific ability - reading, character recognition and typing.
Different voices (male, female, robot, etc.) are used to improve flexible listening ability.

Before you start...
It is recommended to read the following pages briefly.
Kanji - introduction of Kanji character
Learning Tips - Useful information on how to learn Japanese