Part 3: さ し す せ そ
Read this page briefly and spend most of your time on the drill exercise for quick memorization.
さ し す せ そ belong to さ-row in the gojūon-zu (table of 46 basic letters).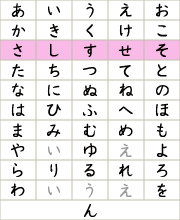 Reading

Writing
All lines should be properly tilted.

The line 3 is slightly curved.

Start with vertical straight line, then curve properly.

Roll at the right place.

The last part is slightly curved.

The line 1 is slightly tilted going upwards.

Curve the last part properly.

There is another way of writing そ (2 strokes).

This way is commonly used for handwriting.
Printable practice sheet is available at Hiragana Writing Practice page.

Typing
Hiragana
さ
し
す
せ
そ
Keystrokes
sa
shi /

s

i
su
se
so
し can be typed by two ways - [shi] and [si]. The choice is up to you.

Drill Exercise
Bug Report
Please kindly report if you experienced any problems or bugs. We will fix it right away.