Part 6: は ひ ふ へ ほ
は ひ ふ へ ほ belong to は-row in the gojūon-zu (table of 46 basic letters).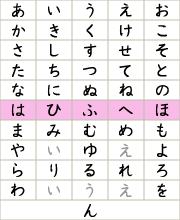 Reading
Pronunciation of ふ[fu] is different from English [f]. Create the sound with pursed lips (like whistling).

Writing
Lines should be crossed properly.

Tilt the first and the last parts properly.

The curve of the middle part is tilted towards the left.

Look closely how lines are tilted.

Keep the proper space between lines.

The second part is longer.

Mind proper angle of the two straight lines.

The lines 2 and 4 are not crossed (just touching).

Typing
Hiragana
は
ひ
ふ
へ
ほ
Keystrokes
ha
hi
fu /

h

u
he
ho

Drill Exercise
Bug Report
Please kindly report if you experienced any problems or bugs. We will fix it right away.