Part 2: か き く け こ
Read this page briefly and spend most of your time on the drill exercise for quick memorization.
か き く け こ belong to か-row in the gojūon-zu (table of 46 basic letters).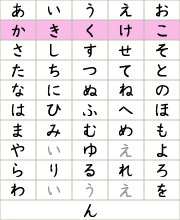 Reading
In Japanese, each Hiragana letter is pronounced for the same length.
For example, when you say the word あか [aka] in 1 second, it should take half second for あ [a] and another half for か [ka].
You don't have to be this precise. But it is important to keep it mind.

Writing
Look closely how lines are tilted.

Place the line 3 at the right place.

All lines should be properly tilted.

The line 4 is slightly curved.

Two parts are the same length.

Mind the proper angle.

The end of the line 3 is slightly curved.

The line 2 is slightly curved and a little longer.
In some letters such as い, か, き, け and こ, there is a very short extra line at the end of the stroke.
You don't have to draw this intentionally. It could naturally happen especially when you write quickly.
Writing Practice
Handwriting practice improves your character recognition ability.
Printable practice sheet is available at Hiragana Writing Practice page.

Typing
| | | | | | |
| --- | --- | --- | --- | --- | --- |
| Hiragana | か | き | く | け | こ |
| Keystrokes | ka | ki | ku | ke | ko |

Drill Exercise
Bug Report
Please kindly report if you experienced any problems or bugs. We will fix it right away.