Lesson 8: や ゆ よ
Reading
How to Read

い and え are usually shown on the second and fourth place of や-row. You already have learned them.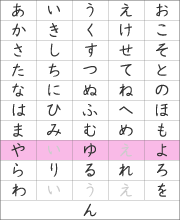 Yōon
Yōon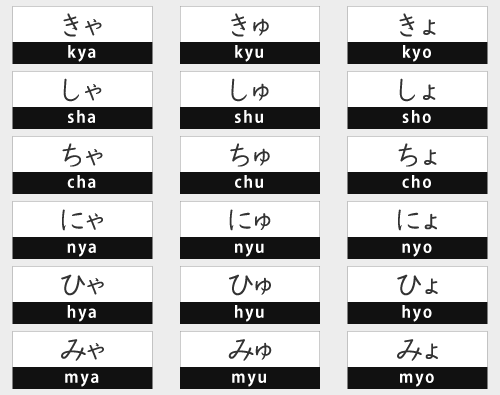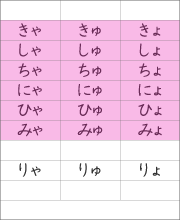 拗音 [ yōon ]
Yōon (Dakuon)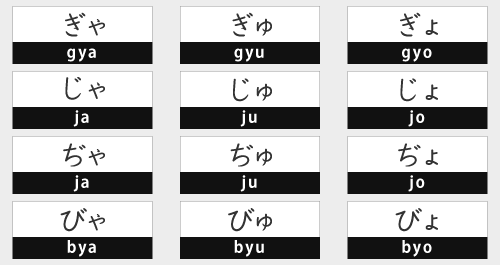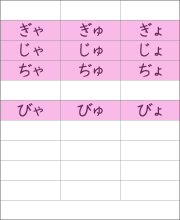 拗音 [ yōon ]
(dakuon)
Yōon (Han-Dakuon)

Yōon is a combination of the consonant of i-column syllables (ki, shi, chi, ni, hi, mi, ri, gi, ji, bi and pi) and ya, yu or yo.
Yōon is described by i-column letters (き, し, ち, に, ひ, み, り, ぎ, じ, ぢ, び, ぴ) plus ゃ, ゅ, ょ (small や ゆ よ).
Pronunciation of じゃ, じゅ, じょ and ぢゃ, ぢゅ, ぢょ are the same.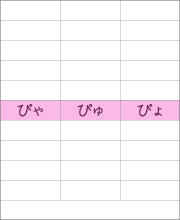 拗音 [ yōon ]
(han-dakuon)
How to Read
(Example: きゃ [kya])
Read き [ki] and や [ya] separately.
Read きや [kiya] with no gap in between.
Then omit [i] after [k]. This is yōon [kya] (one syllable).
Quiz
Click "YouTube" button below to subscribe our official channel. You can get information on new uploads.
Go to the Writing section.

References
YouTube
japanese-lesson.com official channel
Play List - all videos of Lesson 8